Today some of us from the team took a jaunt to nearby Loveland, Colorado. One of our members drove from Indiana in her SUV, so all six of us piled into the car, with people taking turns in the back storage area. Six is a little more than the car was designed to hold, but we made it work. Our goal was sightseeing, shopping, and food.
We went to a mall first, but decided instead to visit the park and walk before the temperature rose too much and the park became too crowded.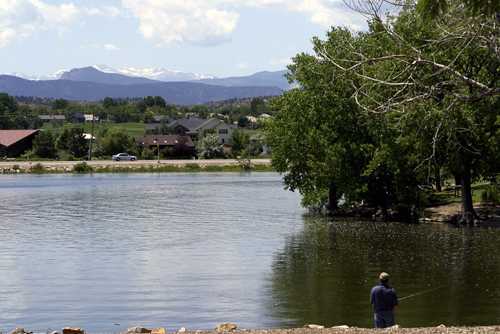 Then we went to Lake Loveland, where there were a lot of people huddled under Alders and other trees, set up in chairs, protective net tents, or sprawled on towels along the lake, and some people swimming, fishing, jet skiing, or boating. And some others just walking, like us. There was a baseball game somewhere, based on seeing a couple kids in uniforms, though I never spotted the game. There was also a not-in-use theatrical stage and arena seating.
We went back to one of the malls (there were about three mall areas within probably a mile; one of them was an outlet mall), thinking that was the one we wanted. We didn't see any of the stores that one of us had emailed to the group when she found it. I was able to look at the email from her and see that we were not at the same mall. The one right next to where we were (which we had already determined was not the correct one) had a Staples store, so we stopped by there so that one of our members could make copies of his PowerPoint for a lecture. The university center hours are not as convenient during the summer months as during the regular school year, so this was an easier option.
We did find the mall we had intended to visit, the Promenade Shops, and the store one of us wanted, Best Buy, and the restaurant I wanted, PF Chang's, were open. The person was able to buy what she needed at the store. We all had a tasty meal and excellent service from the wait-staff.
And here I am back in my room, with a load of laundry drying in the basement, typing my entry for today. I'm putting off going over my notes for my first lecture tomorrow morning, but will do that at a reasonable hour so I can get enough sleep. All the parts of this process start into full swing with the students in this program.
The writing was a priority for me today, so I wanted to do that first. Later my suitemate and I will probably make a run - well, walk - to the store (waiting for the temperature to drop a little) to restock a couple essentials.
It was a good day, with a few hours away from anything related to work, with good company and somebody else at the wheel.
And a plan for a trip to the mountains next weekend (I can't remember the name of the park), where we will be at 12,000 feet. ! ! ! I will definitely be going home with stronger lungs.